Good Afternoon Lovely Readers
And how are we all this afternoon? Well, if you're suffering from the Monday afternoon blues then we have a real treat in store for you now that is guaranteed to bring a smile to your face! Here at Pocketful of Dreams it is fair to say that we have a bit of an obsession with backdrops…ranging from subtle and humble to multicoloured and utterly over-the-top, they are a fantastic way to add some fun, personality and general design amazingness into any celebration! Today, we thought we would delve a little bit further into the world of the paper backdrop where there is literally limitless scope for creativity and fun!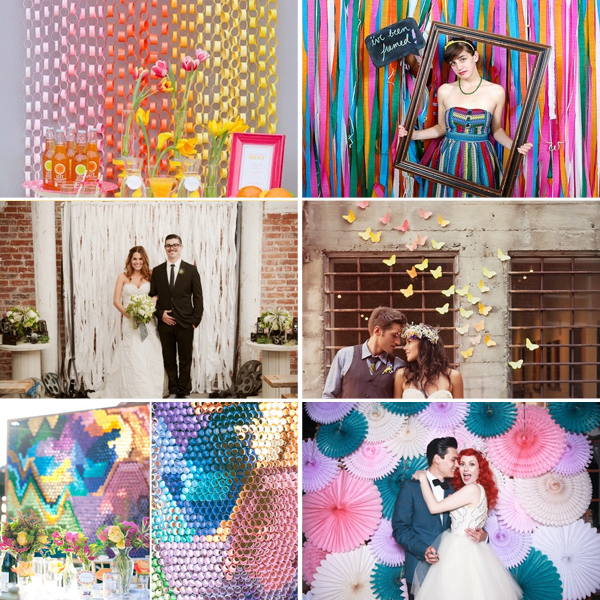 Image credits: 1. Pinterest 2. Floridian Weddings 3. Pinterest 4. Pinterest 5. Decor8 6. Preston Bailey
Ideas for Creating a Paper Backdrop
There really is limitless scope when it comes to paper backdrops with the opportunity to go all out with a full on art installation or play it a bit safer with some paper elements to add some interest to a blank wall or room. Here are some of our favourite ideas for creating paper backdrops:
Create a simple but impactful backdrop for a Photo Booth with paper streamers or crepe paper rolls
Install a backdrop behind a table or area to establish it as a key focal point – for example, to highlight a dessert table or sweetie buffet.
Paper backdrops can be a fantastic option if you've hired a blank canvas venue for a civil ceremony and can be used to great effect to establish an "altar" to exchange your vows in front of.
And you don't need to just stick to 100% paper – incorporating other materials into your backdrop such as hanging tea lights can add extra interest and also render your backdrop somewhat practical (well maybe not, but it's a good way to justify it to the Groom-to-be!)
Consider how you can make your backdrop personal to you as a couple: if you've travelled the world together for example then why not make your paper backdrop from old maps?
For maximum impact and wow factor, consider going 3D with paper flowers, origami shapes, fans or pom poms in different shades and materials to create a full wall installation.
For a slightly more chic, understated look opt for a few 3D paper elements strategically placed. Symmetrical shapes like butterflies work particularly well here and can be a great photo backdrop. Use bright colours to pop against a whitewashed wall or delicate shades and shapes to contrast with exposed brick.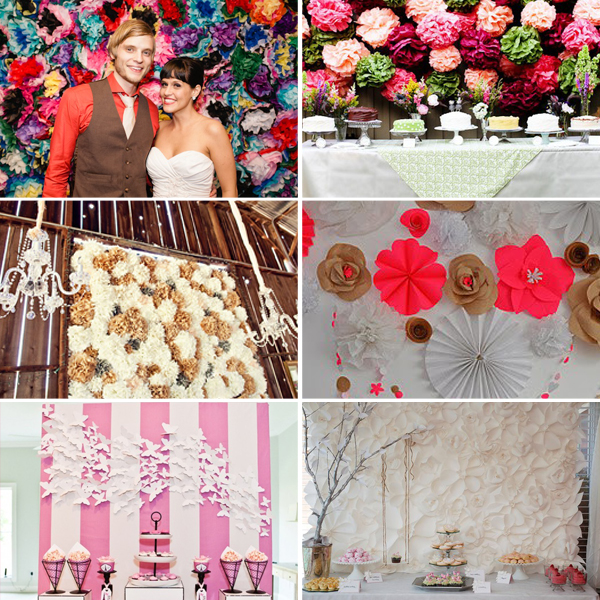 Image credits: 1. Pinterest 2. Wedding Chicks 3. Ellie Grover 4. Pinterest 5. Pinterest 6. Tradewind Tiaras
Where to Buy
If you want to go all out with your paper backdrop there are a number of fantastic design companies who offer both off -the-shelf and custom made solutions:
How to DIY
The good news is that it is easy to get your craft on with paper. Here are a few suggestions for those DIY aficionados amongst you and to be honest, even for those who would normally shy away from the thought of doing it yourself…
The easiest option of all has to be using simple crepe paper – or streamers – which are readily available in any craft shop or stationers and can be tied straight onto a thick string or pole to create an instant backdrop which can be easily re-used at different stages throughout your day.
Crepe paper comes in a variety of colours to match the rest of your decor or if you're opting for a softer colour palette then why not try this simple DIY to create a stunning watercolour effect.
Simple paper chains just like those you made when you were little can look incredibly effective; be creative with the colours you use, maybe opting for an ombre effect for maximum impact.
If you are feeling a bit more adventurous then why not try making this amazing paper rosettes display on Catch My Party or for the advanced DIY'er this stunning floral backdrop from Tradewind Tiaras.
So what do we think people? Are you a fan of the paper backdrop? Are you considering one for your own wedding or celebration and do you have any suggestions for great DIY ideas or places to buy? We'd love to hear from you.
Michelle xx