The Pro's of having a Winter Wedding
So often you hear wedding suppliers talk about wedding "season".
Poor old winter gets the boot as a popular time for a wedding. BUT! Dress for the weather & you'll not only be toasty warm on your wedding day, but layering up can look just as smokin' as a strapless number.
The Romance of a Winter Wedding
Seasons can set the tone for an awesome wedding & every one – including winter – has it's pluses. Brooding skies make awesome backdrops for photos. Open fires fuel the romantic vibe. A little chill gives everyone an excuse to cuddle up & feel the love. There's nothing better than a hearty meal to warm the soul. And when it comes to outfits, it's all in the materials, the layering & the winter accesories!
Materials for Winter Wedding outfits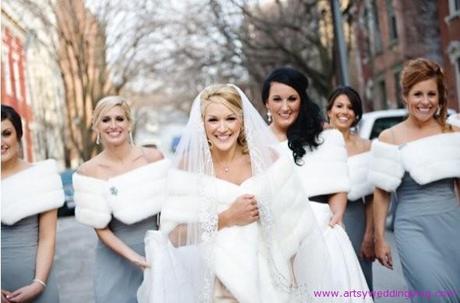 Obviously, if you've chosen a chilly month, you want to dress for it. The place to start is the materials for your outfit. Lara from Gothic Weddings says "Materials such as velvet and faux fur will keep you very warm." So pick something cosy & let your dressmaker or retailer guide you to the goods, " For example a velvet cape or faux fur stole."
Layers of Winter Wedding Warmth
Layers are a great option for a winter wedding outfit. Depending on the location you are going with, chances are you'll be inside & outside throughout the day – even if it's just the dash from home to the car. To be able to take elements of the outfit off when inside, & don them again when heading into the elements means you'll look great AND be warm regardless. Lara suggest "the advice we give is add sleeves to your favourite dress." Easy!  She adds, "Pick your favourite style of wedding dress and have some sleeves or a bolero jacket added to the dress.  We also recommend either a faux fur stole or velvet cape which can be removed at the ceremony.  Even though it is a winter wedding the reception can still be warm and by layering your outfit this allows you to be comfortable at any temperature."
Let your mind run wild with Winter Wedding outfit ideas! Go bold with colours & stand out against Winters muted tones.
Saving the guys!
There are countless grooms who have suffered in sweaty silence under heavy suits in summer heat. Choosing a cooler month means the Groom & all his best men will be suited for the weather! Hooray for the comfort factor.
Add to your uniqueness & go with Winter!
If you're feeling like people will think you are mad for choosing winter, you're not alone! Lara says "alot of our customers get married in winter and look amazing. Winter is quite often more romantic for our customers that prefer a unique wedding as it allows them to choose fabrics such as heavy lace and velvet which is much better suited to the milder months."
So think outside the wedding season & embrace the magic & romance of winter for your wedding!