Despite all of the souveniers from your wedding  (the dress, his cuff links, your garter) one of the most looked at and memorable of keepsakes are your photographs. Incorporate more than just people into your wedding photos to make them truly memorable. Adding props to your wedding photography lets your personality shine and add a unique style to your photos. Choose props that relate to your personality,how you met, likes, dislikes and hobbies – anything with history or value to you! Props aren't just for telling stories, sometimes they can just simply create stunning pictures.
A few ideas:
chalkboards
masks
antique furniture
mirrors
fans
parasols
sparklers
paper signs
balloons
mustaches
funny glasses
hats
your pets
sports interests (golf clubs, fishing poles, riding boots)
bubbles
picture frames
Check out the pictures below to see how couples used a variety of props to enhance their wedding photos.
Via: Tulsa Shots
Your wedding is just one moment of your entire relationship, shouldn't your pictures reflect that? Try adding props that tell a story about how you met or your favorite bonding activity.
Via: I Do Jour
With props you can incorporate members of your special day in ways other than your standard wedding party lineup.
Via: Side By Side
Who says you have to throw the rice?
Via: Wedding Heaven
The infamous mustache, need I say more?
Via: Ron Parks Weddings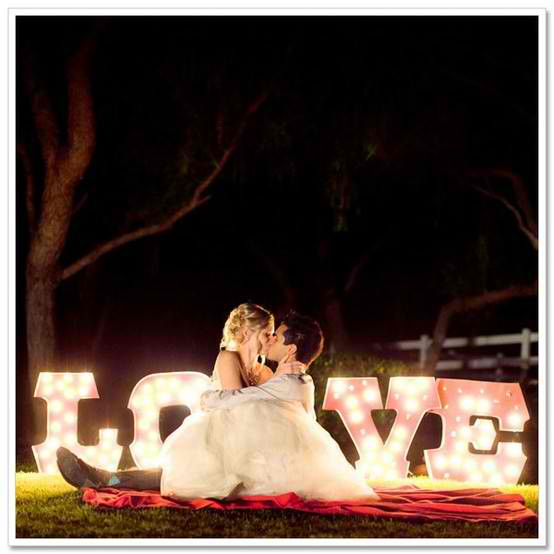 Via: Modern Home Design
Via: Style Me Pretty
You may not be quite this invested in your photos but it's a concept to work with and can easily be scaled down. The bride and groom could sit on the bench with boots acting as book ends. A vintage couch create a similar effect.
Via: One Wed
Other cute alternatives: "I'm His/Hers," "I stole her heart.. So I took his last name," "Finally," and "Happily Ever After."